Red Hawk Road
 For Help with your Gas Tool, call Red Hawk Tech Support at 803-817-7217.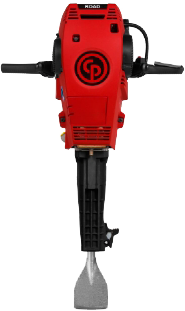 The Red Hawk Road is one of the most powerful gasoline-powered breakers available, offering 44 ft-lb and 1,440 bpm.
Compact yet powerful, the portable Red Hawk Road is easy to move from task to task. With 60 J of power and 1,440 bpm, it delivers the same power-to-weight ratio as many pneumatic and hydraulic breakers without being tied to an external power source or hoses. In addition, an extensive range of tools allows you to use the Red Hawk Road for everything from cutting and breaking to driving and compacting.
Features and Benefits
Portable gasoline-driven design for easy setup and handling
Ergonomic vibration-reducing handles allow operators to work longer
Hand throttle provides excellent control
Spring-loaded kill switch springs back to starting position
Optional carrying harness, trolley or wooden case available for easy transport
Typically $250-$500 LTL Shipping*
* LTL rates are currently volatile and vary widely depending on delivery conditions. We send all LTL shipments out for bid to logistics companies to find the best price and service. Shipping to Residential addresses will be higher.
Applications
Ideal for breaking concrete and asphalt, sidewalk service, pothole repair/tamping, installing post signs/barriers and fences, and digging frozen or hard ground.
Specifications
WEIGHT: 49.6 lbs*
LENGTH: 31.2 in*
IMPACT ENERGY: 44 ft-lb
BLOW FREQUENCY: 1620 bpm
POWER: 1.5 kW
MOTOR: 90 cc, 2 stroke
FUEL CAPACITY: 0.22 gal
FUEL MIX: 2%
FUEL CONSUMPTION: 0.18 gal/hour
VIBRATION LEVEL 3-AXIS: 22.0 (ISO 28927-10 on Dynaload)* ft/s2
SOUND POWER LEVEL GUARANTEED: 109 (2000/14/)* dB(A)
ALKYLATE FUEL: Yes
* CP-8318090039 Hex 1" x 4-1/4" has a weight of 48.5 lbs and a length of 29.3"
| | | | | | |
| --- | --- | --- | --- | --- | --- |
| One Month Service Kit | 9234000687 | $52.31 | Starter Spring | 9234000491 | $62.16 |
| Three Months Service Kit | 9234000688 | $176.15 | Starter Rope | 9234000059 | $8.81 |
| Six Months Service Kit | 9234000689 | $474.74 | Starter Handle | 9234000045 | $6.48 |
| Twelve Months Service Kit | 9234000690 | $828.40 | Spark Plug | 9234000448 | CALL |
| Big Service Kit | 9234001106 | $409.99 | Complete Spark Plug Cable | 9234000601 | $62.07 |
| Bearing & Seal Kit | 9234000318 | $195.39 | Air Filter | 9234000136 | $86.61 |
| Repair Kit | 9234021370 | $21.79 | Trolley | 9234000654 | $604.22 |
| Complete Seal Kit | 9234000691 | $449.34 | Carrying Harness | 9238281410 | $2,324.64 |
| Carburettor Repair Kit | 9234000912 | $32.75 | Mixolene Oil - 1 L | 9234020996 | $23.73 |
|   |   |   | Powerolene Eccentric & Transmission Oil | 3382100555 | $43.46 |