Rivet Busters by Chicago Pneumatic (CP)
Choosing a Breaking Tool
Pound for pound, there is no hammer with more hitting power than a rivet buster. Even a paving breaker would need to be at least twice as heavy to deliver an equivalent blow. This super-power can still be controlled thanks to low blow frequency and teasing throttle. That's why the rivet buster is one of the favorite tools of demolition contractors in the U.S.
Users have discovered many new applications for rivet busters for working in both concrete and steel. No longer is the buster used exclusively by iron workers for forming and cutting rivets, but has now found its way into the hands of operators who need the most powerful tool for the job.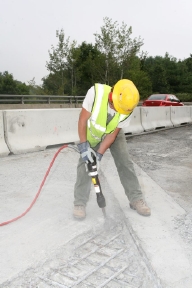 Why Chicago Pneumatic Rivet Busters?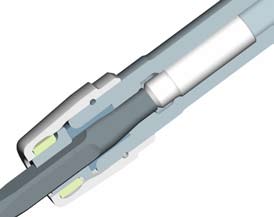 Boyer Valve

- The tight tolerance makes the cylinder stroke longer for more hitting power

Stepped Piston

- Prevents accidental ejection of the piston. This safety feature provides a safer atmosphere for the operator and others around them

Control Power System

- An innovative and ground breaking feature not found on ANY other rivet buster. This system prevents dry firing when the rubber bumper is 75% worn, reducing the amount of lower and upper sleeves, bumpers and springs used

The Brand

- For over 110 years, Chicago Pneumatic continues to manufacture high quality products, making the company one of the most recognized brands in the construction industry

Delivery

- We have an inventory of all models in our warehouse in North Carolina - ready to ship

Support

- Fully trained technical and customer service teams who are available to assist you
Concrete Applications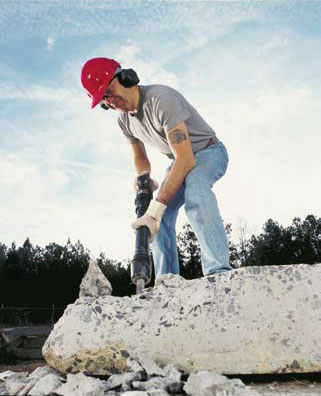 Bridge deck work, where weight of breakers is restricted
De-capping foundation pillars, where concrete is very hard
Medium to hard concrete demolition
As an alternative to paving breakers where high hitting power is required but applied in a restrained space or working horizontally
Metal Applications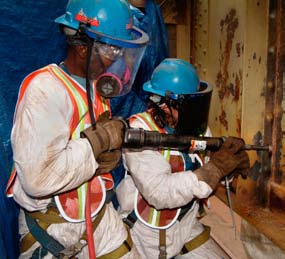 Cutting and removing large rivets and bolts with narrow chisels and backout punch, or other special steel and accessories
Cutting metal tanks or plates (3⁄16" thick, 5mm) with ripper chisel
Industrial applications such as foundries or the petrochemical industry with beryllium chisels
4608 P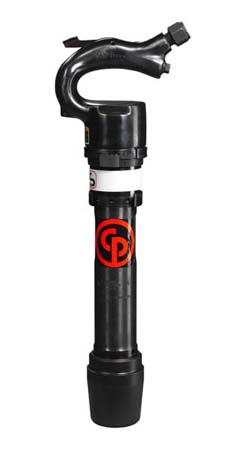 4608 D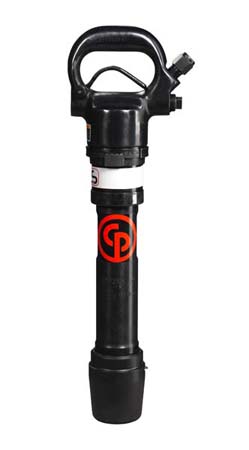 4611 P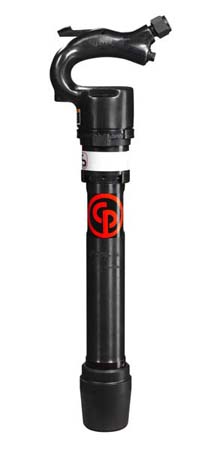 4611 D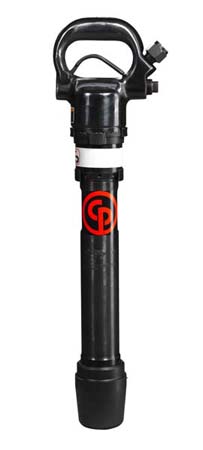 Teasing throttle for progressive hitting frequency gives better control of such a powerful machine
Special Boyer valve makes the cylinder stroke effectively longer for more hitting power
Boyer valve's high quality design makes the blow more consistent
Forged steel handle for long life in rugged conditions
Stepped Piston of hardened steel

New buffer ring is now 90 durometer rubber for extra life
Stepped piston to prevent accidental ejection of the piston
Choice of cylinders: 11" (720 bpm) or 8" (1080 bpm)
Choice of handles: Open grip with outside trigger; or "D" handle with inside trigger
1⁄2" inlet bushing
** FREE GROUND SHIPPING WITHIN CONTINENTAL UNITED STATES
CP 4608 / 4611
Part Number
Description
Weight (lbs)

Air Consumption (cfm)

Stroke (in)
Impact Rate (bpm)
Handle Type
Retainer Type
Price
8900000149
CP 4608P
30.0

38

8
1080
Open/Outside Trigger
US Standard w/ Spring
$1,310.00

8900000151
CP 4608D
31.0

38

8
1080
Closed/Inside Trigger
US Standard w/ Spring
$1,310.00

8900000150
CP 4611P
33.0

40

11
720
Open/Outside Trigger
US Standard w/ Spring
$1,390.00

8900000152
CP 4611D
34.0

40

11
720
Closed/Inside Trigger
US Standard w/ Spring
$1,390.00
CP 4608 / 4611
Description
 
CP 4608P
CP 4608D
CP 46011P
CP 4611D
Part No.
 
8900000149
8900000151
8900000150
8900000152
Price
 
$1,310.00

$1,310.00

$1,390.00

$1,390.00

Weight
lbs
29.8
31
33
34
Length
in
23
23.5
26
26.6
Air Consumption
cfm
44
44
44
44
Air Inlet
in
½NPTF
½NPTF
½NPTF
½NPTF
Stroke
in
8
8
11
11
Impact Rate
bpm
900
900
720
720
Handle Type
 
Open/Outside Trigger
Closed/Inside Trigger
Open/Outside Trigger
Closed/Inside Trigger
Chuck Size
 
Jumbo
Jumbo
Jumbo
Jumbo
Retainer Type
 
US Standard w/ Spring
US Standard w/ Spring
US Standard w/ Spring
US Standard w/ Spring
Vibration Level 3 Axes (ISO 20643
m/s2
12.6
12.3
13.3
14.3
Sound Power Level Guaranteed (2000/14/ED)
dB(A)
105
105
105
105
Sound Pressure Level (ISO 11203)
dB(A)
93
93
93
93
Parts and Accessories
Universal Repair Kit - Spring, Upper Sleeve, Lower Sleeve & Rubber Bumper
UREPAIR-RB
$28.57

 
Rock Drill Oil - 1 Gal
RDO1G
$42.00

Universal Retainer Springs - Bag of 25
USPRG-RB-BAG
$62.00

 
Rock Drill Oil - 5 Gallons
RDO5G
$122.00

Lower Sleeve
P072333
$32.74

 
Line Oiler
LO-10PF
$81.00

Upper Sleeve
P156988
$32.74

 
Whip Check
WCSML
$12.50

Rubber Bumper
3303005103
$5.92

 
Contractors Air Hose
AIRH-19-50R
$124.00

Retainer Spring
P073942
$5.62

 
Hose Whip Assembly w/ 1.4oz. Lubricator
TX4HW1/2
$111.50

Retainer
3303005340
$467.05

 
Whip Hose Assembly w/ 3.7oz. Lubricator
TX8HW1/2
$123.60

Whip Hose w/ ½" NPT Swivel
9246020364
$83.59

 
 
Vacuum Dust Extraction Kit - Includes RB-VDEX Rivet Buster Attachment and TAM3P Venturi Vacuum with Pail
RB-VDEX-KIT
$1,480.00

 
Dust Control Spray Kit
9753300015
$139.21
CP 4160
Part Number
Description
Weight (lb)
Air consumption (cfm)
Stroke (in)
Blows per minute
Handle type
Retainer type
Price
9245999917
CP 4160
25.0
44
6
1100
D-Handle/Closed
US standard (with spring)
$1,375.00

9246020183
CP 4160
25.0
44
6
1100
Pistol/Open
US standard (with spring)
$1,375.00
CP 4160
Part Number
Description
Weight (lb)
Air Consumption (cfm)
Stroke (in)
Impact Rate (bpm)
Handle type
Retainer type
Price
9245999917
CP 4160D
25.0
44
6
1100
D-Handle/Closed
US standard (with spring)
$1,375.00

9246020183
CP 4160P
25.0
44
6
1100
Pistol Grip/OPen
US standard (with spring)
$1,375.00
Parts and Accessories
Universal Repair Kit
UREPAIR-RB
$28.57

Rock Drill Oil - 1 Gal
RDO1G
$42.00

Universal Retainer Springs - Bag of 25
USPRG-RB-BAG
$62.00

Rock Drill Oil - 5 Gal
RDO5G
$122.00

Lower Sleeve
9247985520
$33.72

Line Oiler
LO-10PF
$81.00

Upper Sleeve
9247985510
$34.72

Whip Check
WCSML
$12.50

Rubber Bumper
9753218082
$8.23

Contractors Air Hose - 50'

AIRH-19-50R
$124.00

Retainer Spring
9247985490
$7.15

Hose Whip Assy w/ 1.4 oz Lubricator
TX4HW1/2
$111.50

Whip Hose with ½" Swivel
9246020364
 
 
 
 
Vacuum Dust Extraction Kit
RB-VDEX-KIT
$1,480.00

Dust Control Spray Kit
9753300015
$139.21
Chicago Pneumatic will not accept returns of line items of $90.00 or less