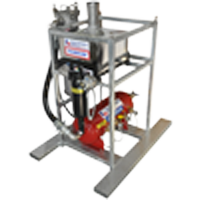 The TX-MSS-400 has a 2 inch inlet with a screened 4-prong crowfoot fitting (CFAM28-S) and a Safety Lock Cable (TX-SLC2).  The primary outlet is 2 inch with an OSHA compliant auto exhaust ball valve (TX-10043-1) and a 4-prong crowfoot fitting (CFAM28).   The system has 4 additional air outlets equipped with OSHA compliant 3⁄4" auto exhaust ball valves (TX-10028-1) and 2-prong crowfoot fittings (CFAM7).  All outlets have safety lock cables (TX-SLC1) to limit the travel of erratic hoses in case of hose breakage or accidental disconnection.  

The system's manifold tank has three additional outlet ports that can be configured with ball valves and crowfoot fittings.  A fourth outlet is utilized by the system and provides compressed air to the Air Mover which is used to pull ambient air through the aftercooler.  The aftercooler is the primary moisture separating component.  The ambient air is being pulled through the cooling fins of the aftercooler to remove heat from the compressed air that is flowing through the interior of the aftercooler.  The rapid cooling of hot compressed air causes moisture vapor to condense into liquid.  The liquid then falls to the bottom of the deliquescent desiccant tank where it is expelled via the 1⁄2" ball valve on the bottom.  This valve is kept slightly open during operation to continually remove water from the system. 
These systems are ideal for removing moisture prior to sand blasting or painting.  However, they can also be used to remove moisture that can damage air tools like impact wrenches and grinders.  Tools can run off the additional outlet ports or additional Manifolds can be used in conjunction with the Moisture Separator Systems.  For example, a TX-2AMF, TX-4AMF or TX-5AMF can be connected via a 2 inch hose to the 2 inch outlet of the Moisture Separating System.  The Manifolds provide a centralized distribution point, and because the compressed air has already been cooled and the moisture has been removed, all downstream compressed air is dry.  Portable In-Line Lubricators and Filter / Lubricators should be used with any air tool to provide lubricaton during use.  Texas Pneumatic Hose Whip Assemblies can be configured for any application. 
Features:
Eliminates moisture from the compressor with four levels of separation
No moving parts to maintain
Deliquescent desiccant for added drying
Multiple outlets with Auto Exhaust Ball Valves & Safety Lock Cables
Use in combination with additional Manifolds or Portable FRL Systems
200 psi ASME code tank
All components from Stainless, Aluminum or Galvanized steel