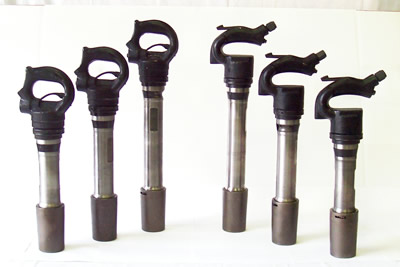 Pound for pound, there is no hammer with more hitting power than a rivet buster. Even a paving breaker would need to be at least twice as heavy to deliver an equivalent blow. This super-power can still be controlled thanks to low blow frequency and teasing throttle. That's why the rivet buster is one of the favorite tools of demolition contractors in the US. Users have discovered many new applications for rivet busters for working in both concrete and steel. No longer is the buster used exclusively by iron workers for forming and cutting rivets, but has now found its way into the hands of operators who need the most powerful tool for the job.
Features:
American Made -Guaranteed to be of the highest quality.
Most reasonable priced replacement valve assemby and interchanges with other compatible rivet busters.
Positive retention of rivet buster piston to prevent possible injuries
Uses a steel throttle valve
Two-step piston design
Barrel cylinder has a bridge built in for safety - piston will not fall out or be shot out of tool avoiding personal injury
Jumbo safety retainer
Rugged steel machined handle
Adjustable exhaust deflector
Heat treated polished steel barrel
The TX-133RB is designed to operate at 90 psi.  It is built to use jumbo steel and upper/lower sleeve and can be converted to run standard steel if desired.
Shipped with hose whip assembly with filter lubricator hose whip assembly (TX8HWF1⁄2, 2 upper sleeves, 2 lower sleeves, 2 rubber bumpers and 2 springs.  
Now also shipped with 12" Chisel and Moil Point
** FREE GROUND SHIPPING WITHIN CONTINENTAL UNITED STATES