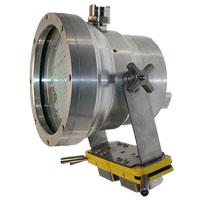 The Pneu-Light is a compressed air powered, intrinsically safe LED light for confined space illumination.  It is simple to operate.  Just plug into a compressed air supply and allow the air to flow.  The Pneu-Light can operate from 40 to 120 psi (2.8 to 8.3 Bar).  It does not require lubrication and compressed air moisture will not affect the unit. 
The LED light is sealed from the compressed air supply and has a 10,000 hour estimated life.  Unlike old halogen style bulbs, the LED light engine can take a shock from dropping and continue to work.  At normal operating pressure (100 psi or 6.9 Bar), it has an output of approximately 5,500 lumens. 
The Pneu-Light is sold as shown.  The compressed air hose is an anti-static, flame resistant, MSHA approved hose. One end of the compressed air hose has a coupling that connects with the Pneu-Light.  This ensures the supplied air hose is used with the unit.  The opposite end of the air hose has a 1⁄2" male pipe thread and any type air connector can be screwed on the fitting.  The hose is approximately 33 feet (10 meters) in length.
The Pneu-Light can be easily mounted to a metal wall, ceiling or floor via the magnetic base.  The magnets inside the base are easily activated to lock the unit in place and deactivated to remove the unit.  Simply move each magnet's lever to the on or off position.  The exterior of the magnet housing is nickel plated for spark resistance.
The Pneu-Light is the first compressed air powered LED light on the market.  Patents are pending. 
Features:
Intrinsically safe
Compressed air driven
LED life expenctancy - 10,000 hours
T6-Aircraft grade aluminum housing
Can operate at a large range of air pressures
Extremely reliable design
Sealed bearings for extended life
Floodlight pattern for maximum visibility
APEX certification applied for