GAS POWERED BREAKERS/DRILLS

Cobra Combi, Cobra Pro, Cobra TT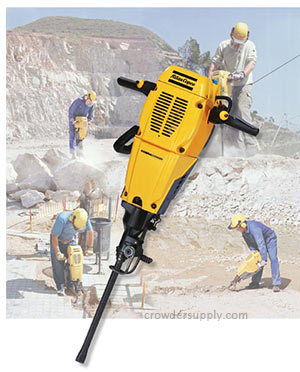 Now Meets Tough U.S. EPA1 Emission Regulations!
Freedom of Movement, Zero Setup Time!
Our Gas Powered Breakers/Drills:
Are Easy to Operate
Run without a Compressor
Hit harder than a 60 lb. air breaker
Hit twice as hard as an electric breaker
With no compressors, hoses or cables to set up, gas breakers are ideal for smaller jobs. They are indispensable for tasks that involve moving along a line, from position to position. Or for working in remote, inaccessible locations. These breakers have been a standard piece of equipment used by Emergency Teams for many years.
The Cobra Combi is not only a self-contained breaker, it's a powerful drill as well. It can sink holes to the depth of 6.5 feet, and drill up to 12 inches per minute in solid granite.
Click here to view additional Cobra Combi Videos
A Multi-Purpose Tool
With a range of 18 different tools, you can use the Cobra Combi for everything from cutting and breaking, to drilling, driving and compacting. So whether you need to simply break a small patch of concrete, or split a rock, you can get the job finished with a gas-powered machine in the same amount of time it would take just to set up a compressor and hoses.
You can use the multi-purpose Cobra Combi to:
Break Concrete
Cut Asphalt
Drill
Dig
Split Rocks
Drive Posts and Fences
Drive Rods and Spikes
Tamp and Compact Soil
Tamp Ballast/Ties
| Breaking Concrete | Cutting Asphalt | Drilling | Digging | Splitting Rocks |
| --- | --- | --- | --- | --- |
| | | | | |
The Atlas-Copco Cobra Combi is a successor to the earlier and well-known model Cobra 149 and the Pionjar Gas Drills. At the same time it is unique in its design since several improvements have been made to meet both environmental requirements from authorities as well as operators demand of ergonomic design and user comfort.
Cleaner emissions, lower vibrations, less noise
It is not only the design that is new on the Cobra Combi. Firstly, the noise level is lowered from 114 to 110 dB thanks to a new muffler and it is thereby fulfilling the European Noise Emission Directive (NED). Secondly, new vibration dampened handles reduce vibration levels from 8 to 5 m/s². With a new carburetor and a catalytic converter, the emissions are cleaner and meet the tough US emission regulations, EPA1. Further, with a new choke control, new carburetor and user-friendly start instructions, Cobra Combi is easy to use. The new gas control gives the operator better control of the speed and enhances precision when operating.
Free shipping via UPS Ground within the Continental United States
TECHNICAL SPECIFICATIONS

8318080010
$5,180.00
Weight
lbs
55
Length
in
28.81
Depth
in
11.06
Width Over Handles
in
23.03
Tool Shank
in
7/8 x 4-1/4
Sound Level (acc. to ISO 3744)
dB
110
Vibration Level (acc. to ISO 8662)
m/s2
5
Impact Rate
bpm
2600
Drilling Speed (in granite 1-21/64 drill)
in/min2
11.8
Max Drilling Depth
ft
6.5

ENGINE

Type
185 cc 1-cylinder, 2 stroke
Power
kW
1
Cooling System
Forced Air
Starter System
Recoil Starter
Recommended Fuel
Unleaded Gasoline
Oil Type
Atlas Copco 2-stroke or similar
Oil Mix
2% 1:50
Fuel Capacity
US Gallon
0.31
Fuel Consumption
US Gallon/Hr
0.36

CONSUMABLES

2 Stroke Oil - 1 Liter
9238274350
$27.85
2 Stroke Oil - 12 x 1 Liter
9234001406
$176.52

DOCUMENTATION

Cobra Combi 2010 S

pare Parts List,

1.24MB
Operator's Manual, 934K
Cobra Combi Older Spare Parts List
Overhaul Instructions , 6.6MB
2 Stroke Oil MSDS
---
Cobra PRO

The Cobra Pro breaker is the heavy hitter in the range. clocking up to an incredible 44 ft/lb at the tool tip, it delivers almost twice the impact engergy of other petrol-driven breakers on the market. The Cobra Pro breaker helps you get the job done faster. This is due to a combination of high percussive energy and high blow frequency. Put them together, and you'll see why the Cobra Pro breaker is such a productive machine.

Features & benefits

Easy to transport
Quick set-up time
HAPS™ Hand and Arm Protection System
Low emissions
Low noise

Applications

Breaking concrete
Cutting asphalt
Tamping and compacting
Driving spikes, tubes, poles, ground rods and probes
Digging ditches and holes

Free shipping via UPS Ground within Continental United States

Model

Part Number

Tool Size

Price

Cobra PRO
8318070041
1-1/8" x 6" Chuck
$4,430.00
Cobra PRO
8318070037
1-1/4" x 6" Chuck
$4,430.00

CONSUMABLES

2 Stroke Oil
1 Liter Botter
9238274350
$27.85
2 Stroke Oil
12 - 1 Liter Bottles
9234001406
$176.52
Impact Oil
1 Liter Bottle
9234001203
$11.79
Impact Oil
20 - 1 Liter Bottles
9234001405
$211.01

Spare Parts Current, 1.46MB

Operator's Manual, 767K
Impact Oil MSDS
2 Stroke Oil MSDS
---
Cobra TT
The Cobra TT is specifically designed for tie tamping. Its portability and flexibility eliminate traffic disruptions caused from local ballast compunction. For maximum comfort, the Atlas Copco Hand and Arm Protection System (HAPS) achieves a very low vibration level. For optimal tie tamping and other maintenance jobs, the Cobra TT is right on track.

Features & benefits

Easy to transport
Quick set-up time
HAPS™ Hand and Arm Protection System
Low emissions
Low noise

Applications

In addition to tie tamping, the Cobra™ TT can be used for all kinds of maintenance work on tracks, crossings, access roads and railway stations:

Spiking wooden sleepers
Digging cable trenches
Breaking concrete
Cutting and compacting asphalt
Driving posts and fencing

Free shipping via UPS Ground within the Continental United States

Model

Part Number

Tool Size

Price

Cobra TT
8318070045
1-1/4" x 6" Chuck
$4,695.00
Cobra TT
8318070049

1-1/8" x 6" Chuck*

$4,695.00
*1-1/8" Tie Tamper Bits not available in the U.S. - can be special ordered

CONSUMABLES

2 Stroke Oil
1 Liter Bottle
9238274350
$27.85
2 Stroke Oil
12 - 1 Liter Bottles
9234001406
$176.52
Impact Oil
1 Liter Bottle
9234001203
$11.79
Impact Oil
20 - 1 Liter Bottles
9234001405
$211.01
Tie Tamping Tool 1-1/4" X 6" X 18"
PB108-TT
$323.00

Spare Parts List, 306K

Operator's Manual, 306K

Overhaul Instructions , 9.7MB

Impact Oil MSDS
2 Stroke Oil MSDS

COBRA MK1

Spare Parts Breakdown Spare Parts Breakdown - Old Style
Overhauling Instructions

Older Pionjar Parts Breakdowns 120,130,148,248, 47L /LA

Parts lists Pionjar 120,130, 748K

Operating Instructions